I remember when Upcycling just meant you were taking something old in your house and making it new.  Now there is a term, a following and a revolution to go along with this idea.  Whatever you call it, I'm in!
I was hosting a dinner party recently for 12 of my girlfriends.  I was getting tired of the same old wine charms to determine whose glass belonged to who.  I would always pick a fun charm and then end up drinking out of someone else's glass. "Sorry about that", I would say as I handed their glass back to them with my perfectly pink lip print on it. So I needed a new solution.
Now, you need to understand the backstory on this fun project. I am OBSESSED with chalkboard paint! Open any cabinet in my kitchen or office and you will find it painted with chalkboard paint and lists of things like appointments, menus, drawings from my kiddos and their lunch choices for the week. My name is Molly and I'm a chalkboard paint addict.  I swear, I would paint my entire house in chalkboard paint if my husband would let me. Think how it would change my life! I would tell my children that they have to color an entire wall with chalk while mommy tries out her new chalkboard wine glasses (filled with wine of course). I would have at least an hour of quiet "mommy time."
So I was on a mission to bring together my beloved chalkboard paint and my love of wine.  I had recently purchased a set of 12 wine glasses at Bed, Bath and Beyond for just $15. They are really nice quality and have a heavy stem, especially for the price.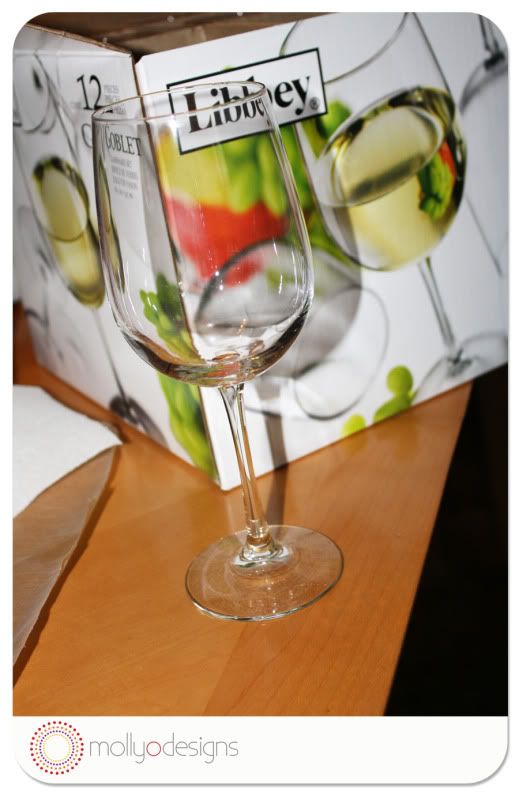 I decided to just start painting and see what would happen.  I used a small foam brush and regular chalkboard paint from your local hardware store. Although, I have since found ceramic/glass chalkboard paint that you can paint on and bake in your oven.
The first coat goes on very translucent.  However, even when painting cabinets, walls, etc. you need 2-3 coats, so I was expecting that. I did not tape off the stem. I found that it was easier to just free hand and turn the glass as I kept the brush steady.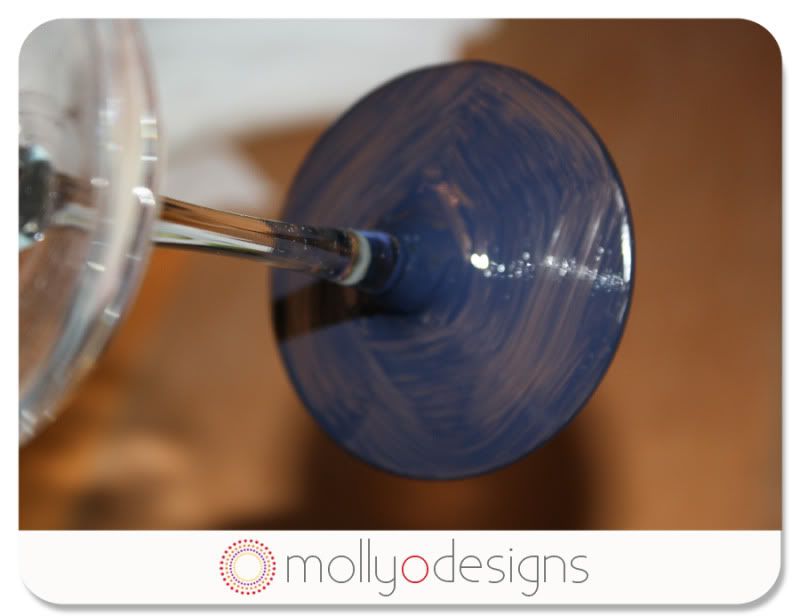 I painted these over the course of 2 days, but I think you could wait about an hour in between coats and just keep going.  I used a total of 3 coats all together. I decided to use wax paper under the glasses because I didn't want them to stick to newspaper.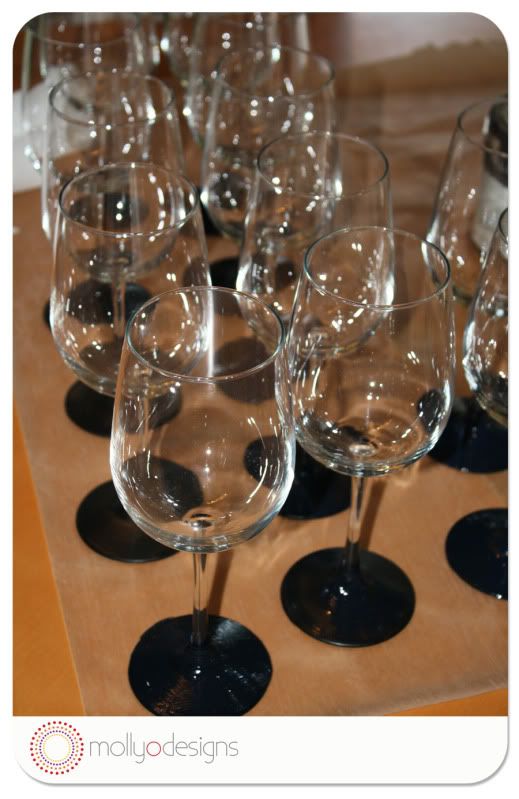 Here is what they looked like when they were finished.
I just added a little jar of chalk to put next to them and my guests had a blast! They loved writing their names on the glasses and several wanted to take theirs home.  And I promise that no one drank out of the wrong glass.
Cheers to Upcycling!