I know many women (and a few men) have shown up for our Stamped Jewelry class with a look of fear or disinterest.  99% of them left with a smile and feeling of pride in what they created.
Now that our classes are online, it is difficult to convince those people that Stamped Jewelry isn't as hard as it looks. I can't personally talk them through it and tell them they are going to do great! The internet is a little limiting that way.
But I will say, that I'm just an email or skype conversation away if you need help!
I thought I would share this sweet design created as a Mother's Day gift for a grandmother with lots of little blessings.  Instead of taking the time to stamp out each of their names, there is just a single initial for each grandchild along with their birthstone.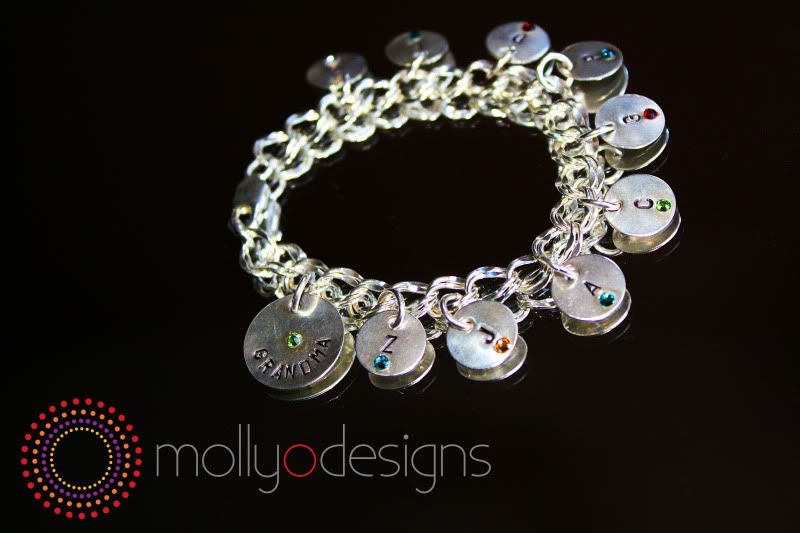 This is a great way to get your feet wet with Stamped Jewelry.  You don't have to create a charm bracelet full of charms. You could just start with a single initial necklace for someone special is your life.  Believe it or not, this makes an amazing gift for the end of the year teacher gift! Just stamp her initial and put it on a chain. Done!
If you want to give this a try, here is what you will need:
Stamped Jewelry Tool Kit
1/2″ or 5/8″ Disc
Jump Rings
Chain
Jewelers Glue (to attach the crystal birthstone) – optional
Birthstone Swarovski Crystals – (not yet listed on our site, but if you send us an email with which birthstone you need we will include it free of charge!).
Stamped Jewelry Class – Intro  (Watch the video, it is free and see how easy it is!!!)
Adding a Jump Ring Class